A MESSAGE TO THE MACCABEES….
On the 8th August 2016, The Maccabees announced out of the blue that they were splitting up. It was an amicable break up with no falling out or tension but it was a shock nonetheless.
I for one am gutted.
They announced their split with the following message with my response following…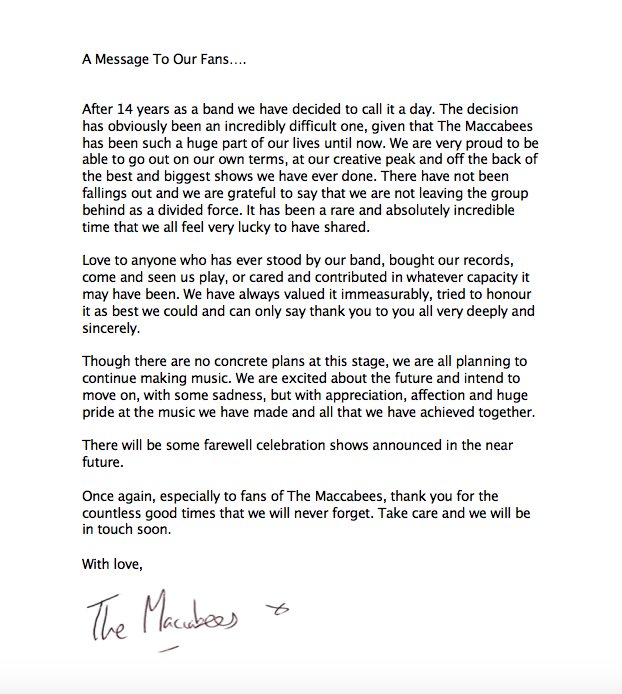 A Message To The Maccabees….
I can't believe this is happening. You've been the soundtrack to my life for 14 years and it's been an absolute pleasure listening to and enjoying your music.
I'm very pleased that you're leaving the band as a united force and will no doubt continue to support one another in your future music endeavours. You can count me in for supporting these as well.
In many ways, this could be a great thing as we lose one band, several more could appear with similar undertones of the infamous Maccabees sound myself and millions more have become accustomed to.
Following your headline slot at Latitude Festival and your last album reaching number 1; it's quite nice to see a band part ways at the peak of their creativity, passion and success.
Despite the parting of ways, your music will continue to soundtrack the rest of my life as I now look forward to seeing you at one or two of your farewell shows later in the year.
To finish this off with a quote from Stuart (@mojo20_music):
"Guess that's the beautiful thing about music. We've got them forever…"
All the best for the future, no matter what path each of you takes.
With love,
Robert Smith, a life-long Maccabees fan.
Words by Robert Smith(@robertmsmith)