ED SHEERAN / CASTLE ON THE HILL & SHAPE OF YOU
You'd have to have been under a rock this week to miss the build up to this new Ed Sheeran track with tiny snippets of the song being teased on tv and radio. Now, before we begin; let me tell you that I really don't like Ed Sheeran and not even in a "this town ain't big enough for both of us gingers" kind of way, I just think he's a bellend if I'm being honest. I dislike him more than I dislike Adele and those that know me will know about thoughts on her. If you don't know me, read my review of her album here which surprisingly isn't full of as much hatred as I thought it would be.
I started to worry on Wednesday though as I started to like the sounds of the chords that were being teased. Was I going to get to today, hear the song and become a fan? Well…we're here now and I'm pleased to report that I hate the song!! Hallelujah!
This track, Castle on the Hill is fucking awful and mainly because it begins lyrically very much like the worst song of 2016; 7 Years by Lukas Graham.
An homage to his home town, it basically just ends up with Ed showing off, trying to sound hard.
"When I was six years old, I broke my leg"

"Driving at 90 down those country lanes singing to Tiny Dancer"

"Fifteen years old and smoking hand-rolled cigarettes"

"We'd buy cheap spirits and drink them straight"
Whilst listening, all I had in my head was Sheeran acting like David Brent…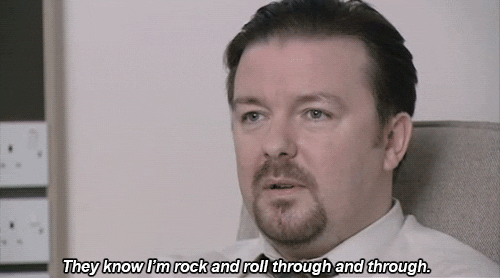 Fans are gonna lap it up though and crown him as some sort of strawberry blond messiah sending him straight to the top spot to feed his already massive ego. Which will make him think he's the metaphorical knees of a bee and continue making music because he thinks people want it. Now, you've probably got to this point and think I'm being harsh on him but I know someone who went to school with him and they can confirm he was a twat back then too. He apparently ditched all of his childhood friends once he started to become famous. Pretty ironic that he's know reminiscing about growing up.
If one new Ed Sheeran song wasn't enough, he's surprised (or disappointed in my case) us all with the release of TWO new tracks. Shape Of You is different in its pace to Castle on the Hill so kudos for delivering two different styles at the same time but that's the only compliment I'm giving and the only one I can think of. The track is equally as bad overall with lyrics such as "last night you was in my room and now my bedsheets smell of you" just makes me think that he needs to stick a white wash on or something rather than write songs about it. We've all had a girl in our room Ed. Nobody is impressed.
Listening to both of these tracks this morning has actually got me feeling quite sad. Not because their beautiful songs and I can relate to them so much and I'm glad someone's writing about the way I feel the world and I'm getting emotional but sad because Ed's back and he's going to be everywhere…take me back to 2016 when he was on a hiatus!
Words by Robert Smith(@robertmsmith)